HOW TO REDUCE FUEL CONSUMPTION?
INTRODUCTION:
The Fuel price has always been climbing upwards. Instead of complaining about the increase in the cost of Petrol/Diesel, let's see how we can cut down on fuel costs. The following are the Tips & Fuel Efficient Driving Techniques which will tell us how to reduce fuel consumption. At the end of this article, you will find an Action plan which you can implement to reach your fuel-saving goal. Lets see how to reduce Fuel Consumption.
TIPS & TECHNIQUES TO REDUCE FUEL CONSUMPTION:
1. KEEP THE PRESSURE ON:
Driving with optimal tyre pressure makes a huge difference to your car's fuel efficiency. Reduced tyre pressure means increased contact area between the tyre and the road.
As a result friction between the rubber of the tyre and the road increases, resulting in higher fuel consumption. Over-inflated tyres will mean a lower consumption but at the cost of grip and ability to disperse water on the road.
Make sure the tyres are inflated at the manufacturer's recommended levels and you'll be fine. And don't forget to check them once a week, always in the morning.
2. SMOOTH OPERATOR:
Be as smooth as possible with the car's controls. Treat the accelerator and the brake pedals with respect.
Rough speedy acceleration and sudden brakes might be more fun on the road but harm your vehicle's fuel efficiency.
3. CONSOLIDATE TRIPS:
Two short trips will inevitably consume more fuel than one that is slightly longer. This is because your car consumes extra fuel each time you crank the engine.
Combine as many trips as possible to keep fuel efficiency high. As a bonus, you'll also be saving on traveling time.
4. KEEP IT SHUT:
A car's fuel efficiency has a lot to do with how it parts air on the move. In other words, aerodynamics.
Open windows, even partly, at high speeds can impact fuel efficiency and result in the tank draining out quicker due to increased drag.
Contrary to popular notion, you'll save more fuel with the windows up and the air conditioner turned on.
5. ALL GEARED UP:
Shift to the highest possible gear without the engine knocking.
A car consumes more fuel in lower gears when accelerating. If the engine's not pulling, shift down instead of pressing the throttle.
Shifting up at 2,000 rpm (1,500 rpm for diesel) gives the best mix of speed and economy. On an automatic with manual shift, short shift to save fuel.
6. LOSE SOME WEIGHT:
The heavier the car, the greater will be its thirst.
You don't have to be a quantum physicist to know this.
So remove the child safety seat you don't use anymore, the spare tyre that's not fit for use, and other unnecessary items.
Keep the boot empty and clean and watch the fuel gauge become more stable. The extra bucks will make up for the trouble.
By making sure your vehicle remains as light as possible, you can improve the fuel consumption of your vehicle and save money on your fuel bill
7. IDLING IS THE DEVIL'S WORKSHOP:
An idling car burns fuel without really going anywhere.
So if you have your engine running while you're waiting for someone, you're effectively getting 0 kmpl at that time.
Some cars even give a litre per hour consumption on their trip computers to help you keep track. Simple solution. Switch the engine off. Or, if you have the budget, buy a car with auto start-stop technology.
8. KEEP IT CLEAN:
Don't drive your car with dirty or clogged filters, such as the air filter or the oil filter if you don't want to shell out at the pump. Get them cleaned or replace them.
It will be money well spent since you won't be bleeding slowly. A serviced engine will also consume less fuel, so don't ignore the schedule.
9. USE A ROUTE PLANNER:
This might seem like pushing it, but before you go somewhere, choose your route carefully. Delays due to traffic lights, and congestion can be minimized. Also, start 10 minutes before rush hour starts, especially if you're a daily commuter.
10. WATCH YOUR SPEED:
Try to drive at or near the speed limit. The optimal traveling speed for every make and model vehicle is different. However, the faster you drive, the worse your gas mileage and fuel consumption will be. Drive as fast as you need to maintain a safe driving speed. Driving at moderate speed increases fuel efficiency.
11. LOWER THE DRAG ON YOUR CAR:
Are you driving around town or on the freeway with a roof box or cargo carrier when you don't have to? It's a sure bet that you're cutting into your fuel economy figures with unnecessary drag. These types of accessories can have a big effect on your car's aerodynamics.
12. MINIMIZE AIR CONDITIONING:
There will be times, of course, when summer heat will cause you to use the air conditioning system. However, consider using the AC in moderation when possible. Alternatively, your vehicle's regular fan settings could provide you with ventilation to keep you comfortable.
13. MINIMISE AERODYNAMIC DRAG:
Additional parts on the exterior of a vehicle such as roof racks and spoilers, or having the window open, increases aerodynamic drag.
Roof racks are bad for fuel economy as they increase air resistance and fuel consumption.
14. USE A FUEL CONSUMPTION DISPLAY:
See the impact of the 5 fuel-efficient driving techniques firsthand with the help of a fuel consumption display, a feature now standard on many vehicles. (Some newer vehicles come equipped with even more sophisticated displays that analyze speed variations, shift points for manual transmissions, and driving behaviors such as acceleration and braking times.)
Many drivers consume 15% less fuel by acting on the feedback that fuel consumption displays provide.
15. TAKE A WALK:
A no-brainer this one really. If you don't need to drive somewhere, don't. Also, if you have to visit a crowded area, such as a market or a fair, park your car some distance away from where you don't have to drive around to find a parking spot.
It will save you time, the hassle of navigating through congestion, and of course a lot of fuel. Moreover, a bit of exercise can do you and the family no harm either.
BONUS TIPS: CHALLENGE YOURSELF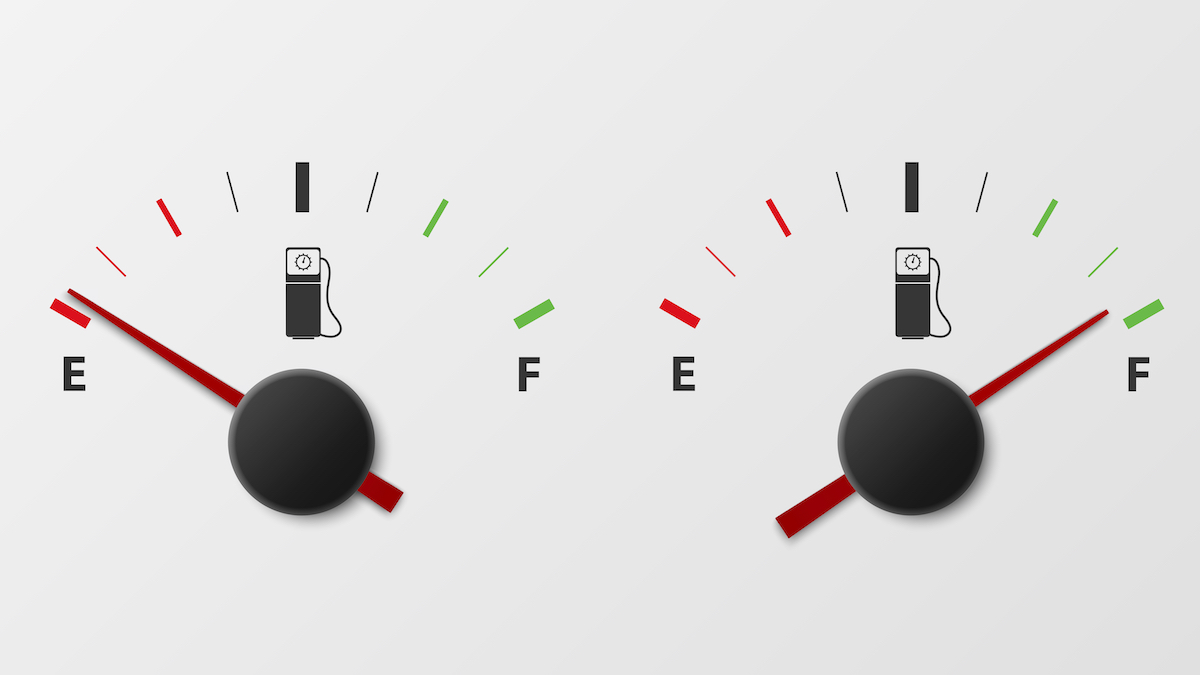 Committed to saving money and shrinking your environmental footprint? Use this personal action plan to achieve your goals.
Your Personal Action Plan
Your fuel-savings target: ………%
The following are the ways to reach your goal:
Drive for maximum fuel efficiency
Accelerate gently
Maintain a steady speed
Anticipate traffic
Avoid high speeds
Coast to decelerate
Adopt other tips and tricks
Avoid unnecessary idling
Measure tire pressure monthly
Use a manual transmission properly
Avoid carrying unnecessary weight
Remove roof or bicycle racks, not in use
Use air conditioning sparingly
Use a fuel consumption display
Track fuel consumption
Plan ahead
Combine trips
Drive less often
CONCLUSION:
By following the above tips and techniques we can easily minimize fuel consumption and also play an important role in reducing environmental footprints. It is a Win-Win situation for us as well as the Environment.
LIKE WHAT YOU'RE READING?
CHECK OUT SOME OF OUR OTHER GREAT CONTENT HERE